Anti-Graffiti Protective Coatings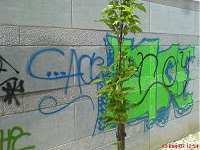 Anti Graffiti CoatingInfinite Design is able to apply anti graffiti coating that has been formulated to provide superior protection against, and easy removal of, unwanted graffiti. It is designed to protect concrete block, brick, cast iron, stone, and any other masonry, with little or no change in color to the appearance of the treated material. It provides protection of both new and existing, by penetrating into pores, to prevent penetration. It has excellent stability against the elements and provides long-lasting protection.
Infinite Design will meet all your painting needs!